Dearest Spindle Sluts (esp. Madame Evil) –
Here's the spindle skein that I promised. Done on my lovely Damsel Monique spindle (Masur Birch, 1 oz). The vital stats are - 1/3 yak, 1/3 bombyx silk, 1/3 merino, 66 wpi (74 wpi before washing), 426 yards, 1.05 oz.
The skein is known as North Sea. If you look at it
*just*
right (blurred eyes after hours of drop spinning help) it resembles a stormy sea with whitecaps. I thought it deserved a name, due to the long-standing relationship we developed over the *months* it took me to spin it.
Please note the accompanying baggie of torn off bits. Y'all set such a high bar for achievement that some of my work was completely unacceptable. I preserved these as a testament to my desire for perfection, to live up to the standards you've set. We won't even talk about that 10 yards I had to throw away…
Be gentle with your critiques – you know I'm just a baby spinner. I promise I'll try not to cry. I think that 400+ yards is a pretty good stab at some laceweight. Now I only have 5 ounces to go – it's going to take me all year…
I expect a *full* report if Maggie says anything about my skein – take notes! Find other people to give opinions. This is my big opportunity to learn, so the more thoughts the better.
Do
NOT
think y'all are getting out of that candy bar & funnel cake at the BCF – I worked my fingers to the bone for my big big prizes!
Now
*I*
get to throw down a challenge.
Taos, New Mexico is the arena where fiber fiends face the challenges of master artisans from around the country. All the challengers have a year and a half to tackle the theme ingredient of the year. Using all their skill, creativity, and handspun yarns they are to prepare artistic creations never seen before. And if ever a challenger wins over one of the others, he or she will gain the people's ovation and fame forever. Every battle, reputations are on the line at the Taos Wool Festival, where master spinners and knitters pit their artistic creations against each other. What inspiration do the challengers bring? And how will the fiber fiends fight back? The heat will be on!
The secret ingredient is…
KNITTED LACE!
À l'aiguille!
Love and kisses,
-the black sheep-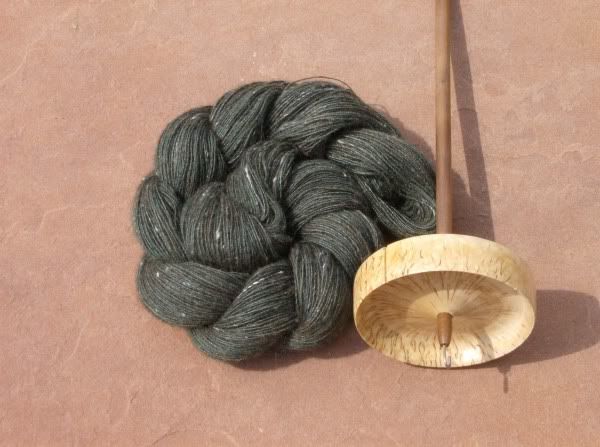 All images © Red Stone Yarns