I dyed some yarn over the weekend and it isn't even green. I decided to get a little crazy and tried for eggplant. I really nailed this one using my acid dyes and the crock pot. The photograph and monitor color representation just do not do this rich, intense color justice.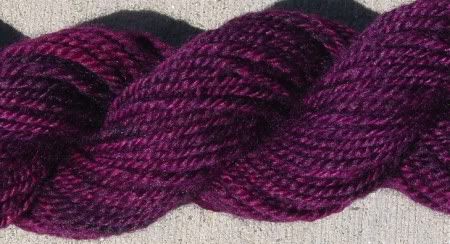 My recipe for this is 90% Magenta / 10% Navy. I'm definitely adding this as a success to my dye notebook – it's a keeper. I wish y'all could really see the variegation in the yarn. It's funny thought, as upon examination it's easy to see where the navy struck first and hardest on the halo area of the wool, but then the magenta is slightly more prevalent in the body of the yarn – a very cool effect which just serves to make the color richer.
You can see how much she differs from her fraternal twin sister who didn't get a dyebath
I'm very pleased with my spur of the moment experiment.
-the redhead-