...and ended up with some very nice yarn. I'm quite pleased. Some of you may remember the saga of The Fleece from last year. No matter how I begged it was not destined to be the 3 ply Aran weight I wanted. I knew this from the beginning, but you know how it is when you get the fleece of a lifetime.
So this year I bought another super nice fleece from Clyde, one that I knew from the outset would support me in my dreams of a handspun, Alice Starmore influenced, self designed, handknit example of cabley supremacy. I had finished scouring the fleece and had pulled some roving to sample with. I love it when a plan comes together...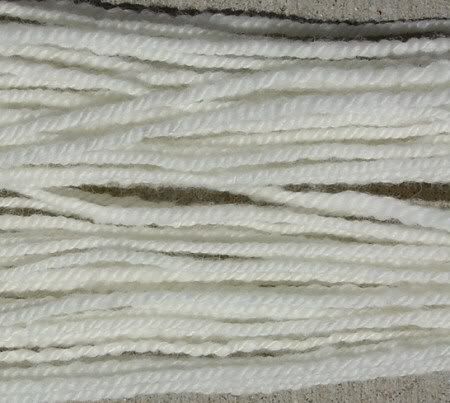 I took it in to show to Maggie on my way to Pilates class. I'm always prepared for her supportive suggestions and she does me the honor of being pretty tough on me. Today she gave me a very high compliment, saying the yarn was 'very very nice' and not pointing out nay opportunities for improvement. This stuff
is right on

When I hold out my skein, it has a full four inches of bounce and life to it and has a high squishability factor.
You can
see her and her fraternal twin sister Miss Eggplant here
I also did some purple and teal 50/50 merino silk with beads that turned out nice – unfortunately the pics did not turn out so spiffy, so I will try again to get some decent pics to share.
-the redhead-