In the last couple of weeks I've accomplished quite a bit on the fiber front:

- washed 6 fleeces. Used 2 bottles (2.5 quarts) of Dawn.

- combed and pulled 4 oz finished weight roving of superfine merino on the minicombs. Probably started out twice that much.

- planning on combing some alpaca. Probably need to do some mohair too.

- organized, rearranged, and rebinned my stash. A bigger project than a few words do justice to. Need more bins.

- still don't like drop spinning, but I'm making myself work at it. The teal 1/3 yak, 1/3 bombyx, 1/3 merino is nice. I get a little discouraged sometimes that it takes forever, but it's my choice to do cobweb. It builds character, right? I've probably only got a quarter ounce done after 2 weeks. I try for at least 15 mins a day on the drop spindle. At this rate I might have the bloody skein done in a month. No pictures – can't risk jinxing it. C***** did approve of my small sample.

- went to Spin-in last Monday with my glittery black mohair/copper eyelash scarf. Everyone thought it was pretty spiffy. Have about 20" done so far. Need to make sure I knit a few rows every night.

- spun 450 yards of the merino roving I blended up during the Deb Menz workshop. It's in colors! 24 wpi. I'm even leaving it as singles. Still don't like singles, but it will work best for this yarn. I'm thinking it wants to be a scarf. Fits right in with my trend of creating yarn that does all the work.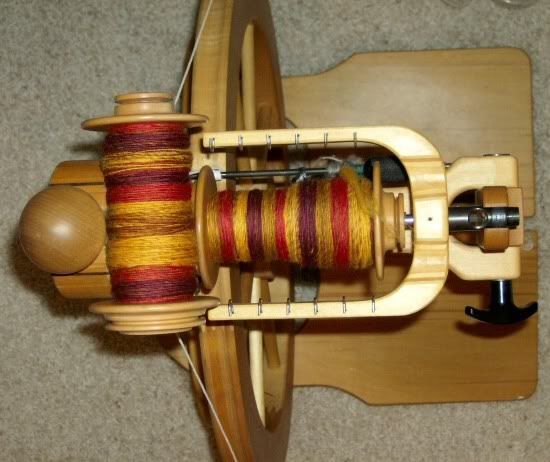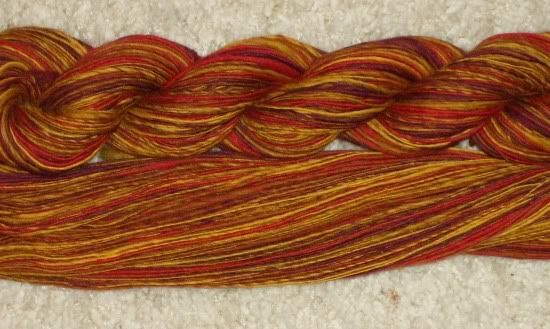 - In process of planning skeins for Estes, Boulder County, and Taos. May enter some other competitions along the way, but those are the biggies. Bad news is that Maggie is the judge at Estes this year – big pressure!

- Strung 6 yds of silver & grey beads in pattern – it's time for some more beaded yarns.

- I'm sampling the merino on the wheel for cobweb as well as doing some on the drop spindle. I think it will be interesting to compare the two.

-the redhead-