Since we had one of those weird years where the holiday was on Wednesday, I decided to be productive and have a dye day. 'Cause really, a single day off in the middle of the week is really nice, but it's difficult to make big plans. Thursday is a work day, so that sort of cuts down on the big partying. Taking two days off to get a 5 day vacation doesn't make a lot of sense - the 4th of July is more of a stay-at-home type occasion, not a big visit-the-family one like Thanksgiving. The perfect occasion to play with my pretty colors.
I *love* my turkey roaster. It is teh win! Here at 5300+ feet here in the People's Republic water doesn't boil at the normal 212 degrees. I can boil water faster than on the flatlands, but at only about 202 degrees, it can be difficult for dyeing. Acid dyeing is all about hitting the strike points of the dye components. It can be questionable at the lower temps. Sometimes the color won't strike strongly or only one part of a complex color works becuase we don't make it up to the strike point. It's not so much fun when you were expecting green, but end up with yellow fiber & a baggie of blue water. The turkey roaster is great because I can set it at 220 degrees, throw my fiber in there, and 15 minutes later turn it off to cool. No muss, no fuss, no poking around to see if it's done. It holds a lot of fiber and doesn't heat the house up either.
I already knew what I wanted, so it was a project dyeing day.
First up is some red, magenta, and purple merino that's being blended with some silk and angelina for the Tour de Soie challenge. I will end up with little more than a pound of this blend.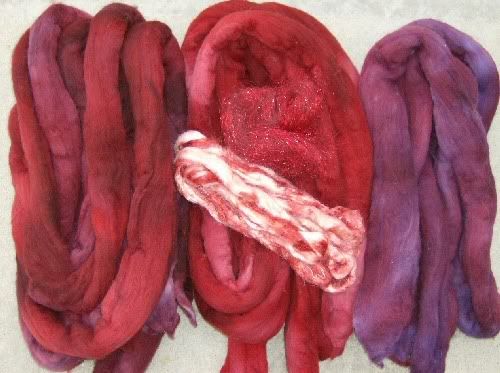 The other project is some sage green merino/alpaca/silk sweater yarn for myself. I did a really good job of reproducing some stuff I dyed up 2 years ago. My color recipes worked well. I'll probably sell the original batts, as the new ones won't be the same dye lot even tho they are very close.
As Judith pointed out during the workshop last weekend, the fibers take the color differently. Which will add varigation and a lot of interest to the final blend.
The silk is very interesting. The navy strikes hard and fast on the outer layers of the roving. The yellow component of the dye takes more slowly which means it migrates better to the middle of the fiber bundle. The silk adds brightness to what could otherwise be a dull blend.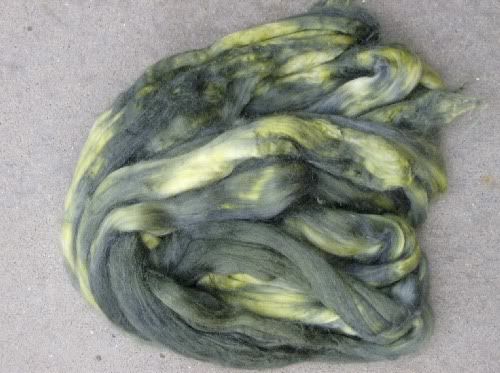 The alpaca dyes nicely. It's has a frosty dusting of white where the very tips didn't take the dye.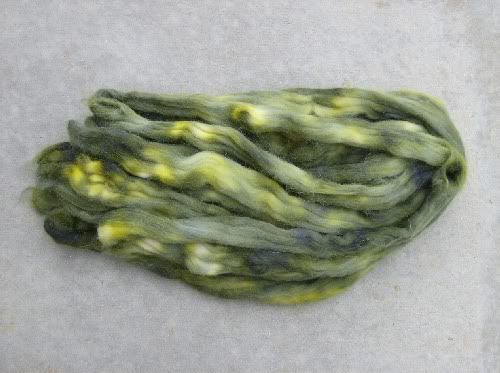 The merino and some merino/silk blend I had lying around took the dye well. They will add the much deeper tones to the blend. My dyeing method adds some nice varigation to each piece of roving without having to dye/paint them individually.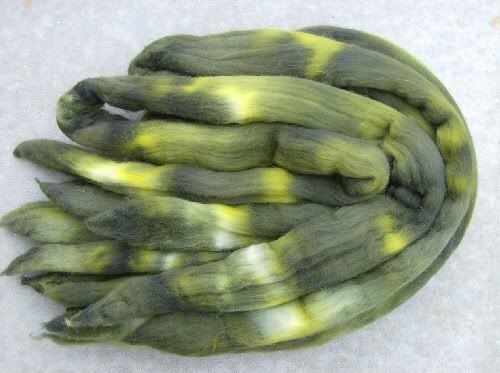 Here's the whole project together. The silk didn't photograph well - it's much more vibrant and closer to the colors of the other fiber.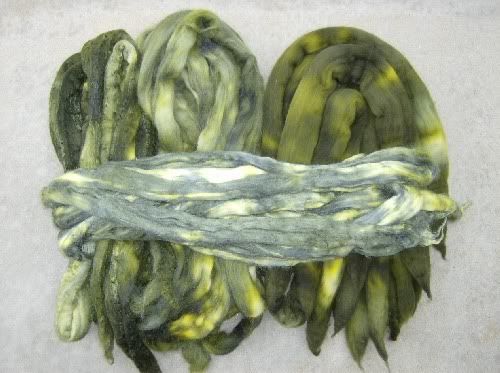 I ended up with a pound and three quarters of this project when all was said and done. 'Cause apparently I lost my ability to count and add somewhere along the way. I only need about a pound and a half, so there will be an extra few batts of this too. Ah well, better too much than too little. It makes for good trading.
Now for the pain in the butt part - blending it all on my trusty PG. All that hand cranking may be good exercise. BUT after awhile my arm gets tired. There's not way I could do any thing more than my little personal projects on this drum carder.
Dear Santa -

I want a motorized drum carder for Christmas. Otherwise my boyfriend is going to be worked to death.

Love and Kisses,
-the redhead-
All images © Red Stone Yarns