You all know there was no way I could have cool new fiber tools and not use them, right? These combs move through the fiber soooo easily. Just like buttah!
English combs like these come in different versions. 'Pitch' refers to the number of rows of tines. These combs are used on longer staple fleece to separate the longer fibers from the shorter, and bring all the desirable fibers into parallel alignment for combed top. This is the best prep for pure worsted spinning. It's also a great method for preparing double coated fleeces, as it separates the two types of fiber quite handily. The short fibers which are taken out can be used as well – in blends or carded up for woolen spinning are a couple of the possibilities.
Hand combs and mini combs can be used without clamps, tho I prefer to have one immobile comb even with the small ones.
Here are my pretty new 4 pitch combs. During nice weather, which is most of the time here in the People's Republic, I try to comb out on the front porch. No matter how nice and clean the covered fleece, there's still a certain amount of trash. Better to have that all outside. The birds appreciate the odd bits of fiber. It also helps keep from aggravating my allergies, especially when I'm combing unwashed fiber.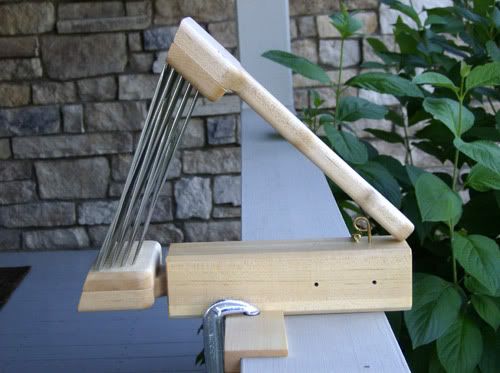 I'm now prepared to work. These tools are very sharp and merit a lot of respect. They *are* as sharp and pointy as they appear. The longest tines in this set are about 7.5" long.
I've combed for quite awhile now, but still occasionally get 'bites' - always because I haven't been careful. Thankfully I've never had more than a minor prick, but I do know of people who have needed medical assistance after an incident with the big combs. I strongly suggest anyone who's going to be working with lethal fiber tools and raw fiber keep up on their tetanus shots. Be careful out there.
I've loaded my stationary comb. When working with the big combs, it's easiest if your only wield one at a time. That's why the sets come with comb clamps. The one clamped to the table or attached to the wall is called the stationary comb. Using the other comb, I will pull out the longer fibers I want while transferring the fiber from one comb to the other and back again.
I would suggest most people do not want to load this much fiber on their combs (Professional driver, closed course). Each lock is lashed onto the combs butt first, so the sheared end sticks out slightly past the tines.
This fleece is Buck, which was the Res. GCh. fleece at Estes quite a few years ago. I think this was the third fleece I ever purchased? It was pretty funny, as that fleece weighed 12 lbs. My now Ex was *not* amused when I showed up with this monster fleece. Hogging the bathtub for days didn't help either.
It can get quite dry here, so I always have my bottle of water with a touch of liquid fabric softner handy. I prefer this on my nice, clean fleeces over lots of spinning oil and such.
I start by moving the comb in my hand from right to left through the fiber, transferring it from the stationary comb to the active one. As you can see, I'm most of the way through my first pass at this point. I really don't hold my wrist at this weird kind of angle when combing – it's tough to comb with one hand and try to take pictures with the other. Even with the aluminum tines these suckers are heavy.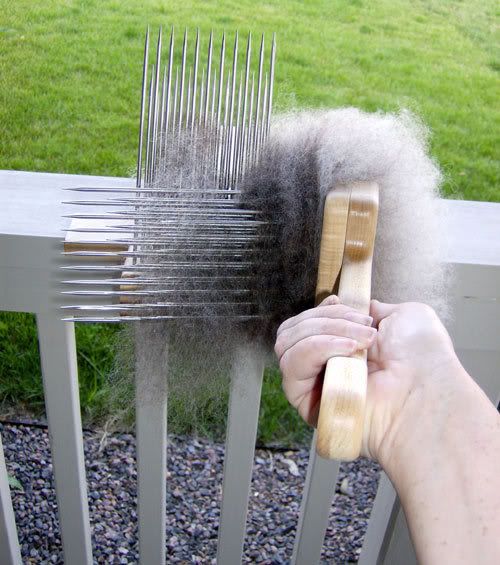 Most of the fiber will move to the active comb. The fiber left behind is reserved for future use in a different application. There's nothing wrong with that fiber, it's just shorter that we want to work with at the moment. Save it for blending or woolen projects. I confess, I'm a worsted spinner – so I have bags of combing trash that I haven't gotten around to doing anything with yet. I bet the merino & rambouilette leftovers would work really nicely with some silk and cashmere…
I'm done with the first combing and have a nice batch of fiber on my active comb. This is the good stuff that I'm going to put through a second pass, moving the fiber back onto the stationary comb
It's hard to tell from this picture, but I'm holding the comb horizontally and moving my hand up and down across the face of the stationary comb. Looking through these pictures it was interesting to see the my horizontal combing is usually taken with my right hand, but the vertical strokes are with my left hand. I'm sure there's some cosmic significance to that, but it eludes me at the moment.
One of the difficulties that many new combers experience is judging the distance between the active and stationary combs. Really, it's just a matter of feel and practice. Gotta have mileage, as we say in the horse world. Until one gains that experience, there will inevitably be teeth crashing and complete misses. It's not the end of the world to get the teeth stuck together. Just take it slow and easy with your strokes & make sure there's no one within comb's reach.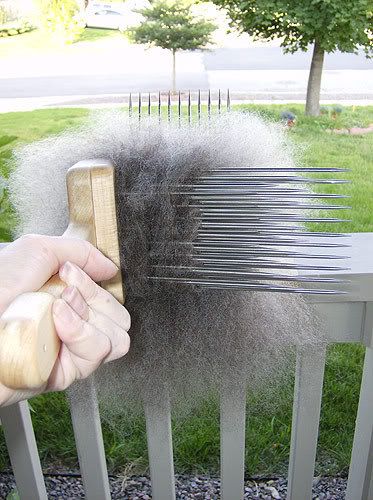 Here I'm about halfway through this combing pass, with fiber on both combs. Note that the fibers on the combs are different shades of grey. This is not an illusion – the longest fibers have the lighter grey tips. The darker fibers on the back comb are slightly shorter. If you look at the leftover picture above, you will see that it's even darker. Not by much, and I certainly want to keep them in the sliver I'm going to pull. At this point I could differentiate between the two if I really wanted to. I would never do anything like that ;)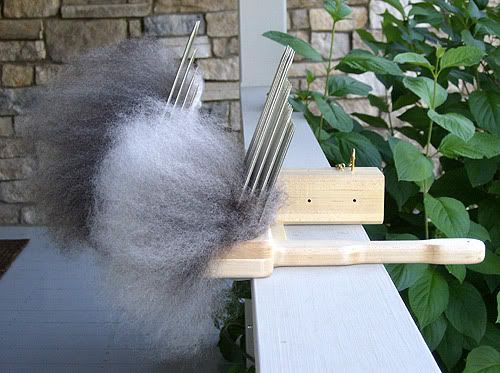 I've finished my second pass. The fiber has turned out very nicely. One of the nice things about being a complete fiber snob is starting with the good stuff to begin with. It's much less work to start with a pristine, coated fleece than with a dirty, stinky fleece full of tangles and VM. You can also see the short stuff I pulled off the other comb lying in front there.
Now it's time for the real fun – pulling the sliver. I've found the best way for me to work is to gather the whole beard of fiber into a point and start my sliver from there. As I pull the fiber I push the diz up hand over hand, while moving across the face of the fiber supply. The biggest trick to the process is to maintain a steady amount of fiber you are pulling through the diz. It's the same as spinning singles – you want to draft a uniform amount of fiber on each pull. Another common mistake is trying to pull too much fiber through, which makes it much more difficult to pull and generally leads to frustration. What you cannot see down below is the bin I'm catching the fiber in. This helps maintain the integrity of the sliver and keeps it from getting filthy in the pile of junk I just so lovingly combed out. I'm too lazy to sweep up in between steps.
.
Here's the final result. Oh, pretty, shiny!! An afternoon of combing will give me quite a collection of bird's nests just waiting to be spun. The resulting yarn will bring joy to my worsted-spinning heart. There's about .7 oz / 20 g here, which only took about 10 minutes. Yeah, it was a bit of work. But nothing commercially prepared holds a candle to the wonderful fiber prep I get hot off my combs.
This fiber adventure brought to you by the letter 'C' and the number '4'.
-the redhead-
All images © Red Stone Yarns