It's County Fair time here on the lovely Front Range. We have the full on 2 week spectacle down the road at the fairgrounds -­ carnival rides and games, livestock shows, cowboys, Fair Royalty, tractor pulling, bands, etc.

We also have a handspun yarn show and demo, which is a good time for the locals. Okay, so it's not nearly as much fun as going to Estes, but yanno it's much easier on our pocketbooks.

But before we get to that, I have to share one of the best parts of the Fair. Once a year I get to have one of my favorite treats. Every year after I drop my skeins off at 9 am for judging & help set up out little exhibit, I get to have the Breakfast of Champions. This year it was my prize from the gals for actually spindle spinning ;)

Funnel Cake!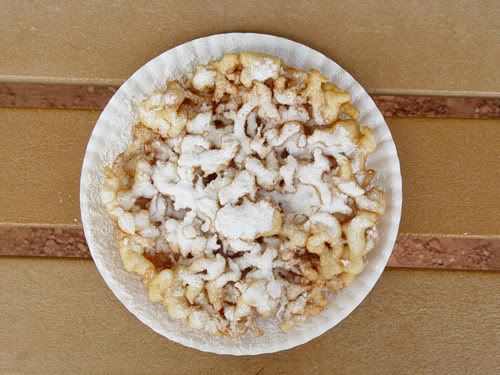 Oooooh, doesn't that look luscious?? I know, I know. I could hear my arteries clogging as they deep fried the dough. But soooo yummy. They even gave me an extra shot of powdered sugar. Maybe the trip to the farmer's market for fresh sweet corn and 'maters made up for it.

The yarn & weaving shows are always informative, as the entrants can attend the commentary on the entries in the afternoon. This year's judge was Pat Noah, who has many years of handspinning experience. We all have a good time hanging out and fondling each other's skeins. Jean brought an absolutely lovely woolen Buffalo skein which we were all in love with. We all thought the skein should come home with us. I suggested that she might want to check her bag twice when she left for the weekend ;)

I took over a couple of grocery bags of fiber for peple to play with on Saturday afternoon. Justin is a lovely grey corrie ram fleece from one of the local growers. That fleece is so fine he could almost be a Rambouilette instead. I also dropped off a big chunk of Precious, who was the Res. Grand Ch. Colored fleece last year at Estes. He's a lovely deep black, medium staple Romney x Tesswater cross. Everyone had fun with that stuff. Maybe next year we should have sort of organized thing where people bring fiber to share.

This year the infamous spindle skein did well, coming home with the Grand Champion ribbon. I also got critiques from Jean & Debi, who also approved. I'm very pleased with a score of 98 and some pretty purple ribbons.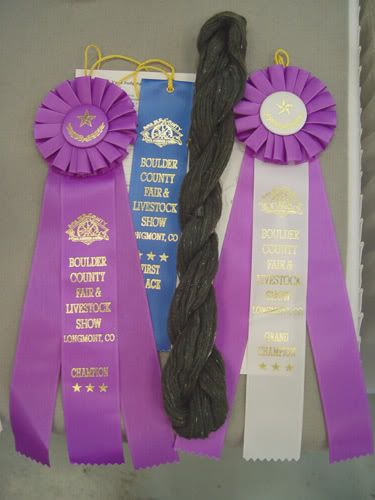 Here's a much better shot of that yarn. The vital stats are - 1/3 yak, 1/3 bombyx silk, 1/3 merino, 66 wpi (74 wpi before washing), 426 yards, 1.05 oz. I've been chugging along on my second skein as part of the Tour De Soie. I think the total 4 oz will make a nice Shetland style lace shawl. I just have to keep at it. This is definitely one of those projects where the spinning and knitting are concurrent. I'm getting happier with the spindle, but the wheel is still by far my favorite tool.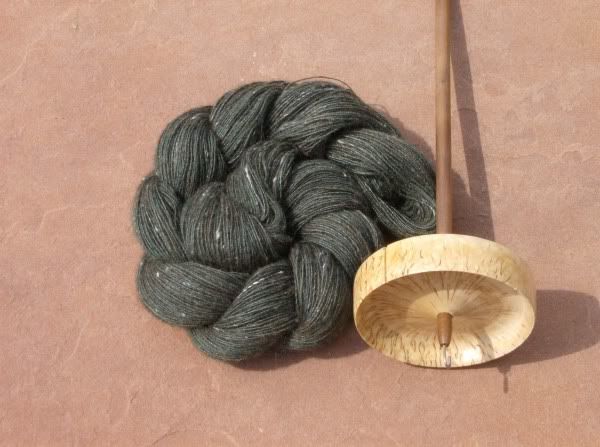 The beaded yarn performed well again, winning both a blue ribbon and the People's Choice voting. The coolest part of that prize is the $25 gift certificate to Shuttles. I'm thinking I'll pick up more black merino roving. There's been a baggie of metallic beads sitting out and giving me bad looks for a while now.

*EDIT* - Black Sheep Gathering Handspun Results 2007 - these just in from the June show in Oregon. It looks like I won 3 blue ribbons and maybe another ribbon at Black Sheep Gathering. The black beaded yarn won it's Novelty class - yeah! One of my alpaca skeins won first, but I'm not sure which one. I hope it's the brown laceweight, which also won 1st at the BCF over the weekend. My silk/alpaca/rambouilette blend also took first. It's all good. I'll get the details when it all comes back.

-the redhead-

All images © Red Stone Yarns