This week was my first time to really work a larger amount of fiber through the Supercarder. So far I've discovered a few things - it likes 1.5 oz batts. Beyond 1.8 ozs I have to be pretty firm with it. The third drum is all that *and* a bag of chips. Slower is better for finer fibers. It's a great reason to ditch all the stuff that had been keeping me too busy.
I had pulled together ~ 27 oz of handdyed sage green silk, alpaca, and merino. The final blend is 40% merino / 30% alpaca / 30% silk. It's tough to force that much silk into a blend. Thursday evening I got through 9 1.5 oz batts in an hour and a half, including interruption for phone call from my Mom. So it really probably took an hour ten or so for those 9 batts, which is pretty good considering I was doing 11 layer batts. Friday took a similar amount of time. I imagine as I become more comfortable with the machine and refine my technique I can get up to a full pound an hour of a similar blend. Simpler blends will go faster, as will stronger fibers.
I only did 1 pass with these batts, and they came out nicely blended. My little experiment with how well this higher number of layers came out worked well. It's very nice prep even by my standards. It was the equivalent of 1.5 - 2 passes on my PG Beverly. My arm wasn't tired at al!! ;) ;)
Here's the process & results:
I started with my little piles of weighed out fiber for each 1.5 oz batt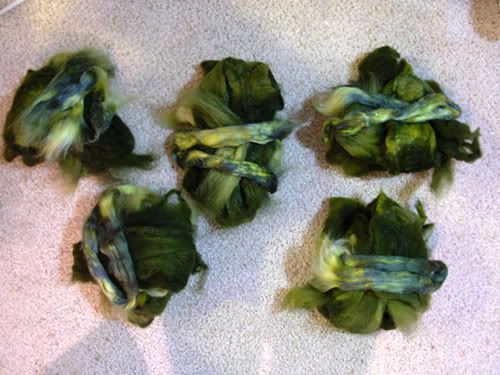 I fed it all through the carder. This is a layer of silk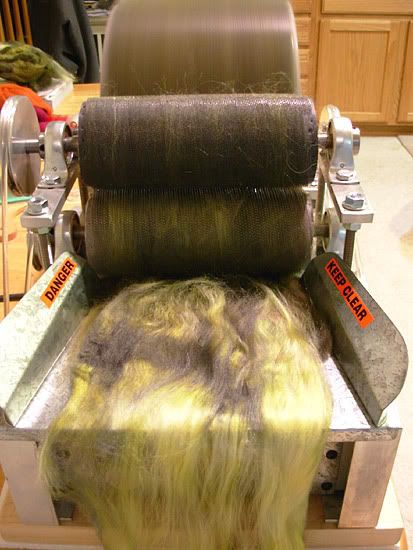 Here's everything on the drum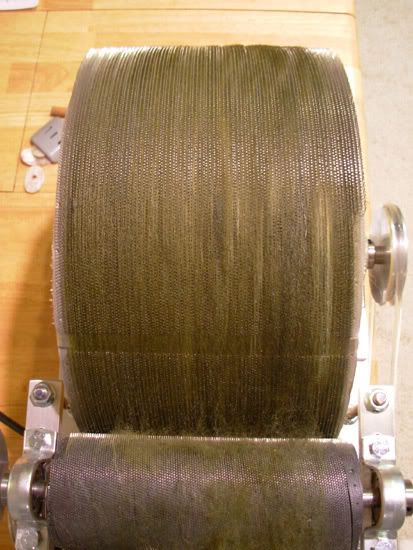 Pulling the batt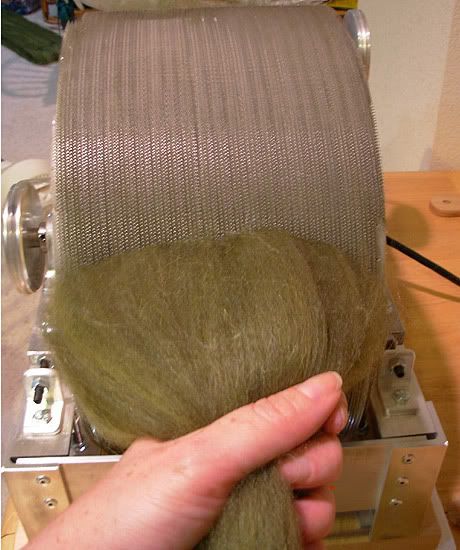 Final blend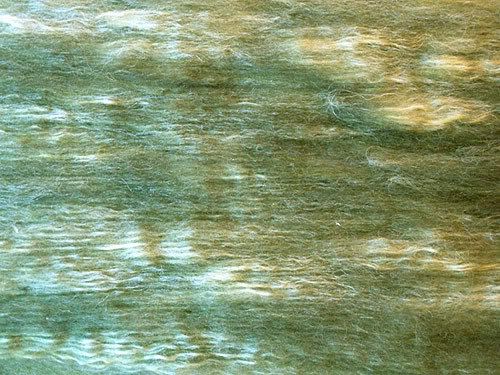 The result is this giant pile of batts. It's a pretty serious amount of fiber - not bad for a couple of evenings goofing off. As often happens, I ended up with more than I need for my intended project (maybe a sweater)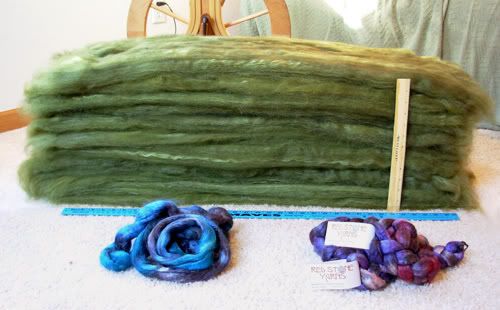 Next I'm thinking some blue merino/silk/silver angelina - sparkly!
-the redhead-
All images © Red Stone Yarns