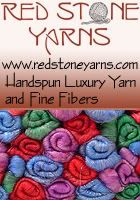 Latest Red Stone Yarns update - I've added some cashmere blend batts. This week's theme is Naturals

Stop by and check out the amazing Burnished batts - 15% Cashmere / 30% Silk / 55% Merino / Angelina in natural shades with a copper and gold Angelina kicker. The first three batts of this luscious blend went directly into my personal stash ;) Add a little sparkle to your life today.




Also featuring Champagne - 15% Cashmere / 30% Silk / 55% Superwash Merino blend batts. The handle of this luxurious blend is incredible.




Gift Certificates are now available - they make a great present for your fellow fiber fans.

-the redhead-

All images © Red Stone Yarns