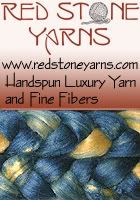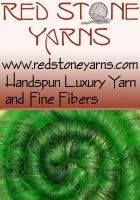 Latest Red Stone Yarns update - Batts in Black *cue the music*

I've added some black cashmere blend batts, as well as other batts and a new sample pack.


Stop by and check out the amazing Obsidian batts - 15% Cashmere / 15% Silk / 70% Merino in shades of black and grey with a silver Angelina kicker. The elegant combination of black and silver is ready for a casual visit or a night out on the town. This luxurious cashmere blend is a amazing to spin - indulge yourself today.




Also featuring Newsprint - 20% Silk / 80% Merino blend batts. The handle of this luxurious blend is incredible.




We have a new sample pack up, containing 1/4 batt of Burnished, Champagne, Newsprint, and Obsidian. This is a great way to try out a variety of our batts.




Gift Certificates are now available - they make a great present for your fellow fiber fans.

-the redhead-

All images © Red Stone Yarns