The fleece judge, Pat Quintana from Taos, was +excellent+. Extremely knowledgeable about sheep, herd management, breed characteristics, and commercial wool needs. Also very well versed on what handspinners are looking for. There are not many judges out there who have such a breadth of knowledge on both the commercial and handspinning sides.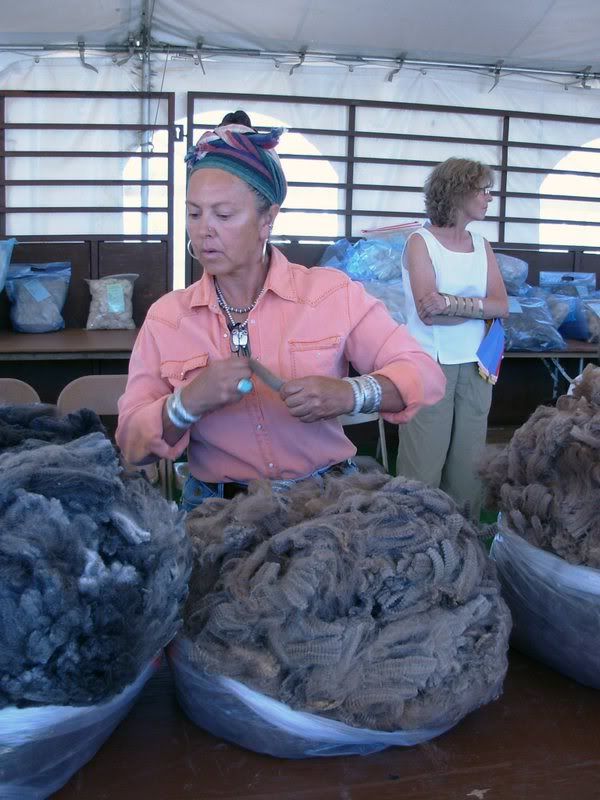 Her commentary was marvelous - she gave great information for both the growers and spinners. I really appreciated that she took the time to explain various aspect of what she was looking for, as well as what she had in front of her. She very graciously took the time to re-explain the basics as she saw new groups of people come up.

I was flattered that she asked me a couple of questions during the morning. We had a lovely chat after I selected & awarded the Spinner's Choice rosette. I learned a lot, and in turn hope I gave her further insight into the handspinning side of things. It was definitely worth the 4 hours we spent watching her judge. We are fortunate to have her as a judge. I hope they bring her back in the future.

I was very surprised and excited to be asked by Sharon Vair to award the Spinner's Choice Rosette in honor of her late husband Clyde. It was very tough to select a single fleece out of the entire entry. From right to left Robin D, moi, Robin P (grower of the fleece), and Saron Vair.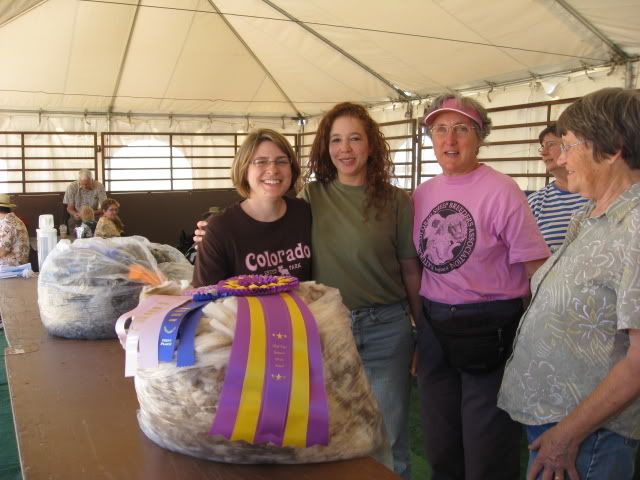 Maybe I do know a thing or two about good fleece after all these years...

-the redhead-