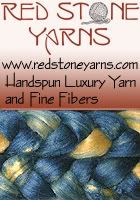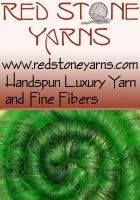 Red Stone Yarns fibers are featured in the Get This! section of the summer Spin-Off magazine - see page 30.

Latest Red Stone Yarns update - Red Cashmere Blend Batts

Stop by and check out the amazing Cinnabar batts - 15% Cashmere / 30% Silk / 55% Merino in ruby red. The natural luster of the silk shines throughout this batt. The subtle variegation of the cool reds will give your yarn depth and interest. This luxurious cashmere blend is a amazing to spin - indulge yourself today.




Also featuring Tiger's Eye - 5% Cashmere / 15% Alpaca / 20% Silk / 60% Merino / Angelina blend batts in earth tones. How can you beat cashmere, alpaca, and silk all together?




Gift Certificates are now available - they make a great present for your fellow fiber fans.

-the redhead-

All images © Red Stone Yarns