Yesterday was my first day at the new job. I have a badge (with the requisite convict picture), an email address, a working phone, and a lovely new office: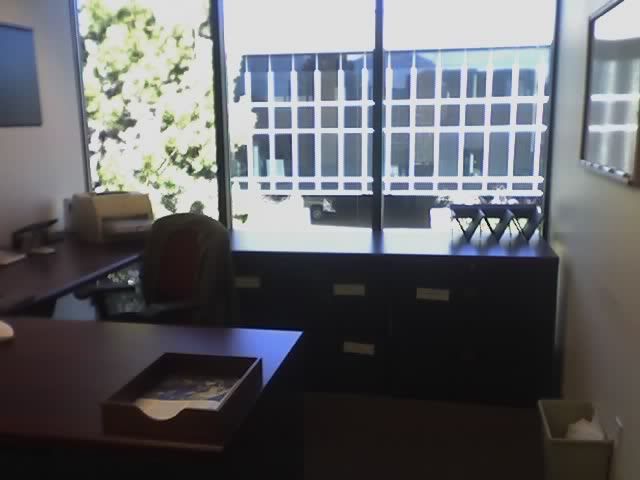 I forsee more time spent wandering the greenhouses at Fantasy Orchids, as I have 12 feet of floor to ceiling windows at work to fill in addition to all the room at home. I already picked up a couple of small plants Mom reserved for me there, and she is also sending me something that she's bought from Japan(?). I want one of these
I'm going to learn to cultivate orchids come hell or high water, according to Mom ;)
I met dozens of people, most of who's names I'd forgotten by early afternoon. Thankfully, everyone's names are on their doors. The folks there are all very nice, and I'm heartened to learn my new workplace has been voted into the top 10 companies in Colorado to work for the last two years. Once I get settled in I look forward to biking to work, tho my work ID doubles as a free buss pass in the state and there's some underground parking for the bad days.
My calendar is already filling up, much to my surprise. They are very serious about helping me get dialed in, which is the sort of challenge I appreciate. I brought home 60 pages of contracts reading for the next couple of days. I've gotten through about half of it, but will undoubtedly be reviewing the policies, procedures, and templates for several days. I'm grateful there wasn't a quiz at the end of the day ;)
They have all sorts of other perks, such as a real cafeteria two buildings over. It was an absolutely spectacular day, so when my new boss treated me to lunch we spent a lovely 40 minutes sitting outside in the warm sun.
One the home front, Home Depot is a dangerous, dangerous place. It seems I'm over there everyday - it's difficult to escape the gravitational well. Yesterday's trip included a stud finder and several sets of decorative poles so I may hang the drapes I've sewn. The HD list, however, grows ever longer.
Good times.
-the redhead-